(2011)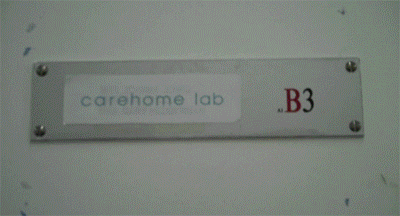 Slideshow of stills from 'CareHome Lab' (2011) pilot version
(smell: modern hospital, biscuit, soiled sheets, roast beef dinner, pine disinfectant)

'CareHome Lab' is a a simulation of a typical carehome dayroom and bedroom. Constructed to be an immersive experience, with olafactory and auditory stimuli creating sensual responses to the space/ place.

A version of Carehome Lab was constructed between January and March 2011. CareHome Lab is a set of strategies for constructing a simulation of a residential carehome. The installation can be adapted to become a site specific installlation.
My paper and film
'Should Simulated Environments, When Used as Empathic Design Tools, be Considered Spaces or Places'
are available on request.